Bar Raffles: Enhance your Customer Experience with Exciting Giveaways
In the vibrant world of bars and pubs, the customer experience is paramount. It's the ambiance, music, drinks, and, most importantly, the activities that turn a regular outing into an unforgettable evening.
Among various activities proven to captivate and retain customers, raffles are increasingly standing out. Unique, engaging, and easy to implement, raffles are a customer engagement strategy that offers multiple returns on investment, both in terms of customer interaction and visibility for your establishment.
Here's a quick overview of a bar activity that's worth a shot.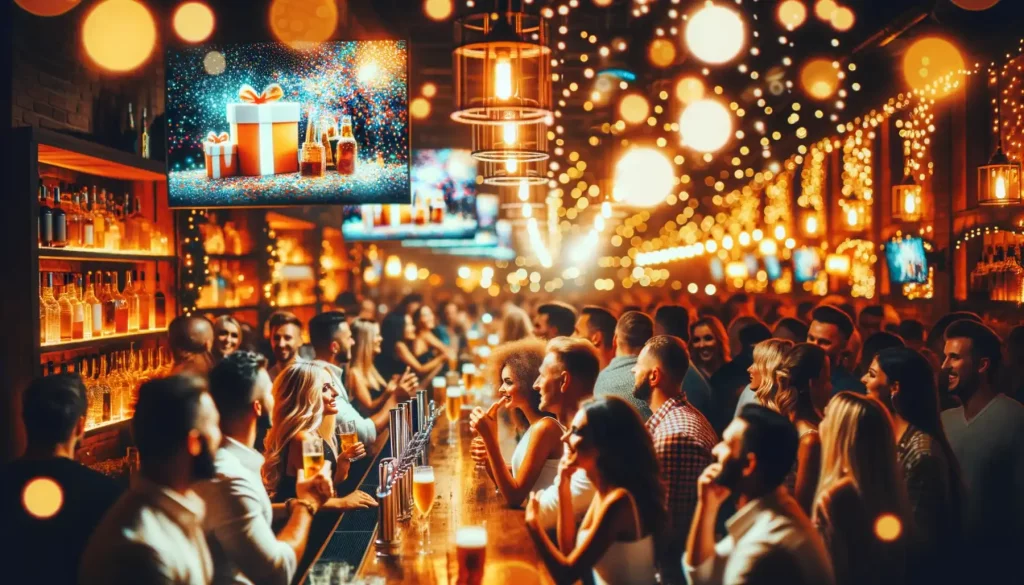 Specific Advantages of Using Raffles as Bar Events
Raffles aren't just games of chance. They offer numerous advantages, especially when used as bar activities.
Easy to Implement
One of the significant benefits of raffles is their simplicity. Unlike other types of bar activities that might require specific preparations or skills, raffles are accessible to everyone and easy to organize. For patrons, a simple scan of a QR code, entering their name, and they're in! Unlike trivias where only the knowledgeable (or cheaters) win big, raffles provide an inclusive and universal experience.
Powerful in Attracting New Patrons
The potential of winning something, whether it's a free drink, a voucher, or a simple giveaway, is highly effective in attracting new customers. Regulars invite friends and colleagues, while passersby are drawn in by the electric atmosphere and the chance to walk away with a prize.
Catalyst for Social Interactions
Raffles often spark social interactions. Customers chat, share their hopes of winning, fostering a friendly camaraderie. Additionally, the drawing itself becomes a moment of high anticipation, turning it into a collective experience.
Unlike other types of bar activities that might require specific preparations or skills, raffles are accessible to everyone and easy to organize.
Free Advertising
If the prizes are enticing, chances are customers will share the event on their social media, drawing more attention to your bar. This digital word-of-mouth can create a buzz and significantly boost the bar's visibility and footfall.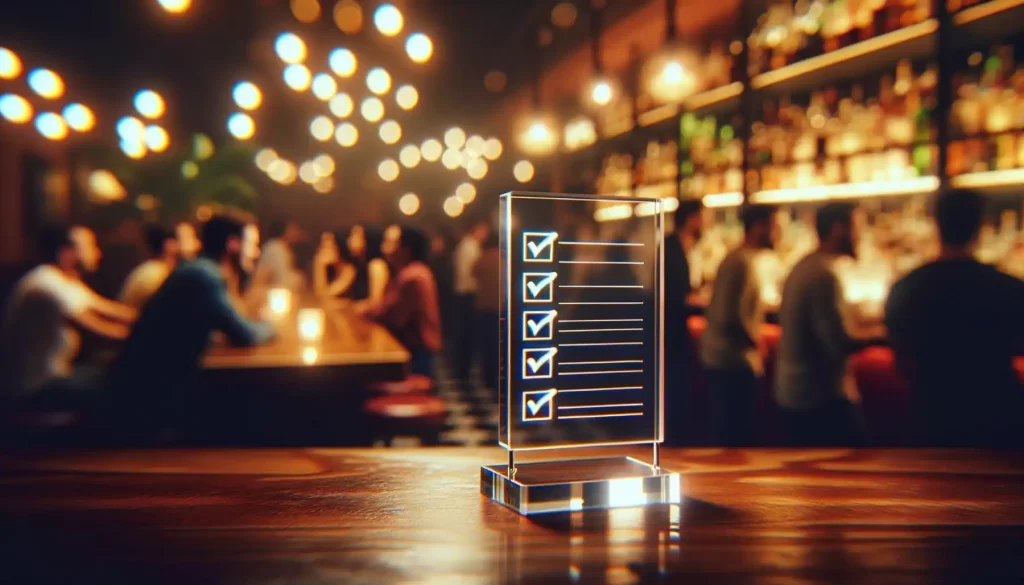 Steps to Organize a Successful Raffle in a Bar
While the concept of a raffle might seem straightforward, a successful event still requires thoughtful planning. Here are some key steps to ensure your raffle is a hit:
Choose Appealing Prizes
It all starts with prize selection. Choose rewards that will pique interest—free drinks, discounts, bar-branded giveaways, or even tickets to local events. Ensure the prizes resonate with your bar's identity and vibe.
Promote the Event
A well-promoted event is a successful one. Use your social media channels and posters in the bar to inform customers of the upcoming event. A good tip is to partner with local businesses to enhance event promotion and secure more prizes.
Use a Specialized Tool
In the digital age where speed, efficiency, and transparency are at the forefront of concerns, it's essential to equip oneself with a cutting-edge tool. This is where Boom Boom Shot comes into play, a platform designed specifically to meet the needs of raffle organizers.
A quick overview of the application's most important features:
✅ Auto-registration: Simplify the process with auto-registration via mobile phone, making the process even smoother.
✅ Secure participation: Ensure one participation per customer thanks to the secure registration process.
✅ Custom rewards: Make the experience even more exciting by adding your own prizes, thereby customizing each raffle.
✅ Wheel customization: Adjust the appearance of the draw with your logo, background, and even the avatars of the participants to reflect your brand identity.
✅ Export data: Turn every raffle into a marketing opportunity by exporting participant data for future use.
✅ Smart notifications: Automatically inform winners by email, providing more freedom to participants while ensuring prize delivery.
✅ Email marketing: Take advantage of post-raffle to strengthen your bond with participants through customizable emails.
✅ Social media engagement: Integrate your social links directly into the interface to boost your visibility and engagement.
Choosing Boom Boom Shot means opting for a comprehensive and innovative tool, guaranteeing unmatched success for your raffles. Visit the website to learn more.
Create a Festive Atmosphere
A raffle is more than just drawing a name—it's a show! Consider hiring an emcee or curating a special playlist for the event. Games and challenges leading up to the drawing can further heighten the excitement.
A raffle is more than just drawing a name
it's a show!
Engage with the Audience
Encourage participants to interact during the event. Ask questions, urge them to share their expectations or anecdotes related to the raffle, fostering genuine engagement.
Listen to Your Customers
After the event, take the time to collect feedback. This can be done through a short online survey or simply by talking to customers. Understanding what worked well and what can be improved will help you refine your future raffles and other events.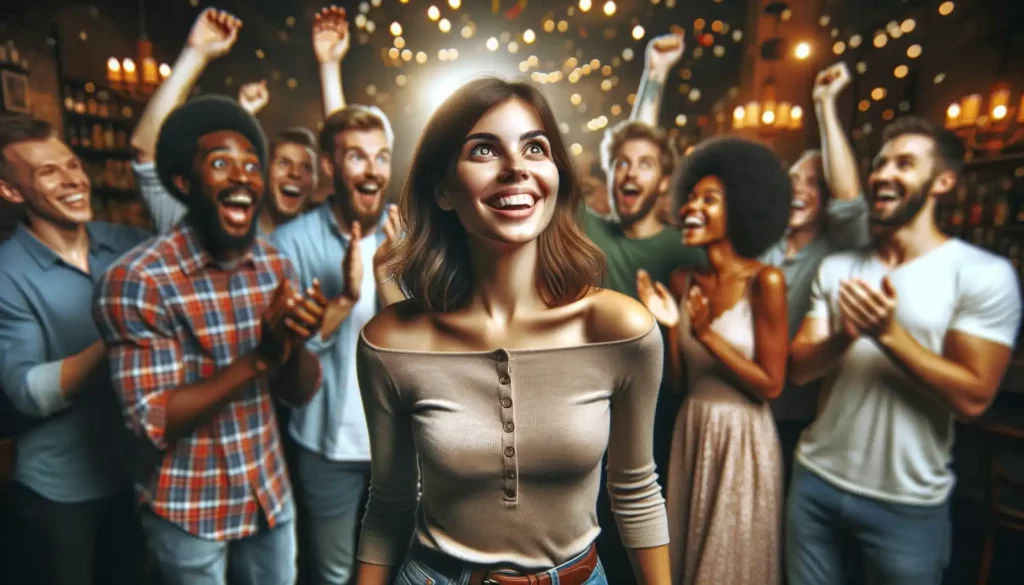 Testimonials and Case Studies
The success of the bar "Le Barcadia"
Located near the city of Lille, North of France, Le Barcadia is not just any establishment. Recognizing the importance of constantly offering innovative events to its clientele, the bar decided to introduce weekly raffle nights starting in 2022.
This bold move quickly paid off. In just a few months, Le Barcadia saw an impressive 25% increase in attendance during these specific evenings. The atmosphere became electrifying every week, with customers eager to find out if they would be the lucky winners of the day.
Yannick, the passionate director of Le Barcadia, reflects on this experience: "A wonderful discovery that brings life to the bar. A simple principle, but we don't manage anything, and it's very appreciable."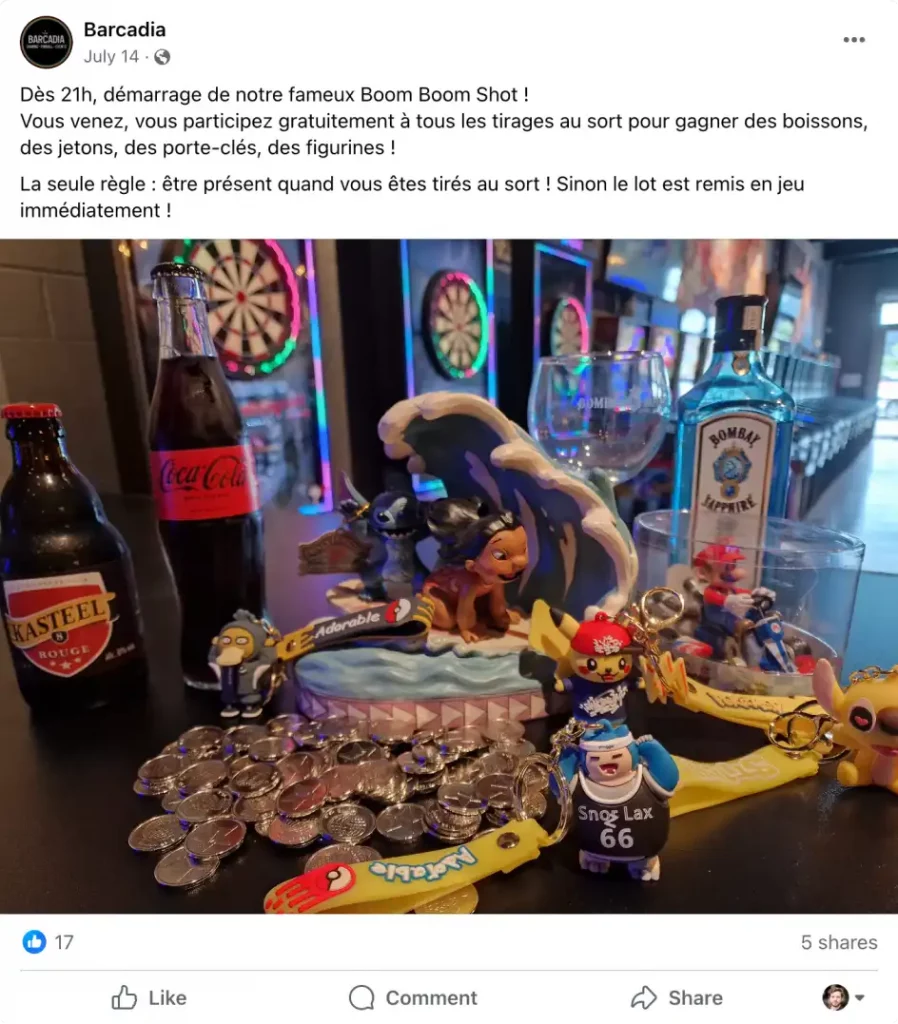 The River Rock, nestled in New Jersey south of New York, is more than just a bar-restaurant: it's an institution. Every fall, Matthew, one of the managers, organizes nights dedicated to the NFL (American football). With 55 strategically placed TVs, each commercial break becomes an opportunity to engage the clientele. And that's where Boom Boom Shot comes in.
The tool, seamlessly integrated into the River Rock experience, adds an extra dimension to these evenings. Each raffle is broadcast live on all screens, creating an electrifying and captivating atmosphere. The result? A phenomenal increase in customer loyalty, with over 60% of them returning week after week.
Matthew, with palpable enthusiasm, shares his experience: "With the raffles, every NFL evening is transformed. It's not just the playful aspect that impresses, it's the ease of use of Boom Boom Shot. Our customers love it, and the atmosphere peaks with each winner announcement."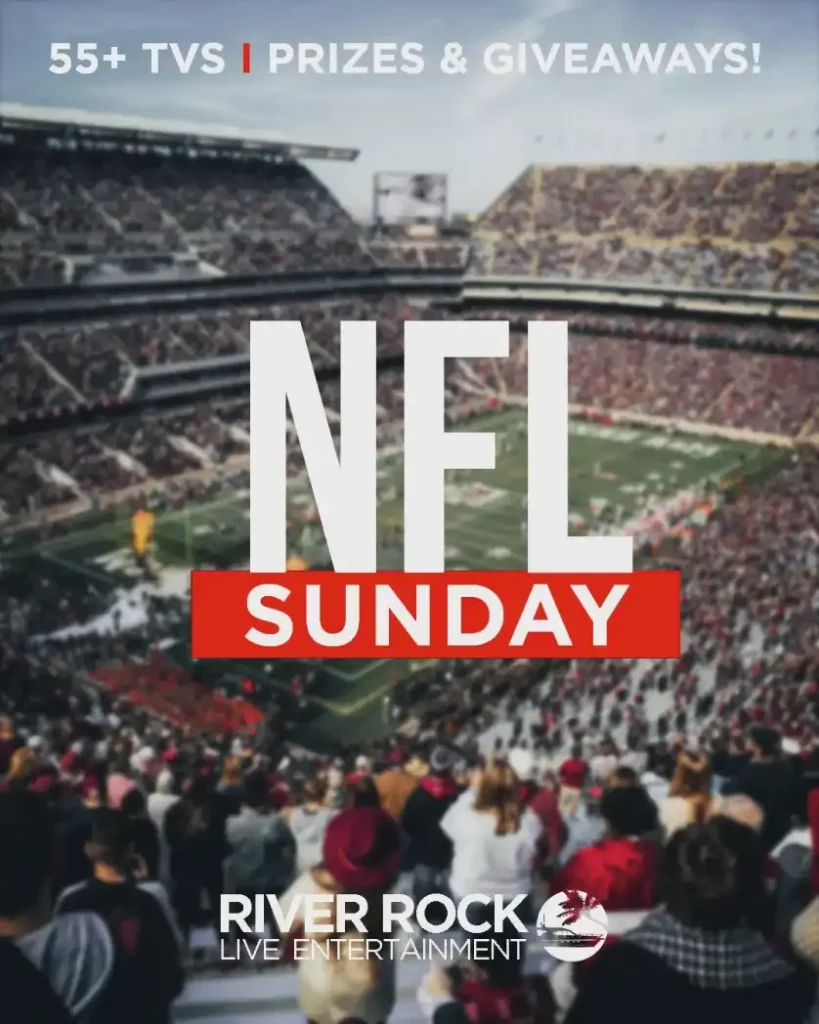 Conclusion
Entertainment in bars is more than just a business strategy: it's about creating a memorable experience for the customer. In an industry where atmosphere and social interaction are at the heart of success, setting up raffles stands out as an innovative, engaging, and extremely effective solution.
Not only does it offer the opportunity to reward customer loyalty, but it also attracts new faces, curious to try their luck. Thanks to modern tools like Boom Boom Shot, organizing such an event has never been so simple and smooth.
Drawing on inspiring testimonials, any establishment can ensure that its raffle will not be just any event, but a highlight of the evening.
In the end, isn't it the ability to innovate and offer unique experiences that sets the best bars apart from the rest?