Your Online Sweepstakes in 3 Simple Steps
Boom Boom Shot is a free sweepstakes app that is designed for both a group of friends throwing a party or a more organised event with hundred's of participants. It is easy to use and very quick to setup.
Here are the 3 things you need to do to run your very first DIY sweepstakes experience.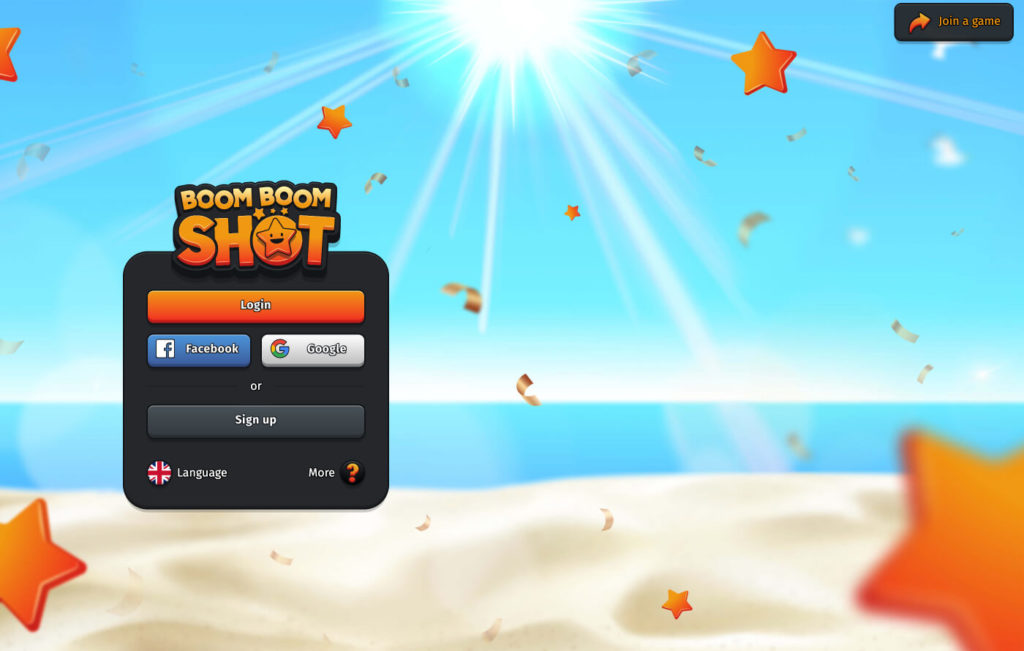 Step 1: Create an account & setup your online sweepstakes
As the event/party organiser you can create a free account on Boom Boom Shot by signing up using your Facebook/Google account or by using your preferred email address. Once that is all done, the next step is to create your online sweepstake. When creating a new sweepstake, you can define a number of important settings: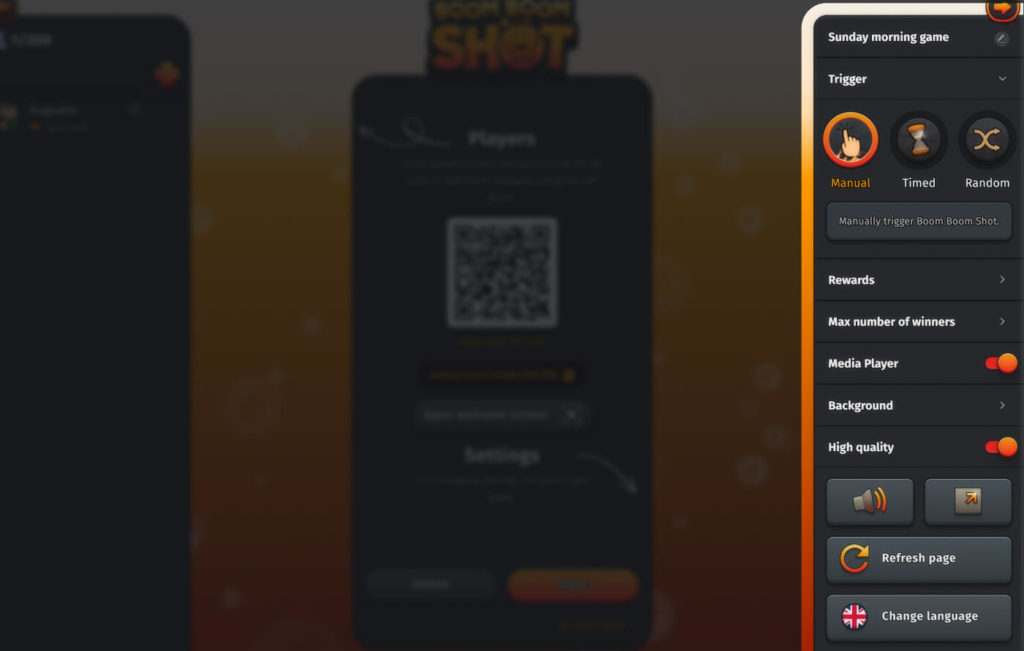 Name: give your sweepstake a fun name for all to see
Trigger: define how you want your sweepstake to begin. There are 3 options available:

Manual – this means that each time you want to do a giveaway you need to manual start the spinning wheel.
Timed – this means you can set the giveaway to occur at a certain interval time (e.g. every 15 minutes).
Random – this means you can set a time range (e.g. between 5 to 15 minutes) and the giveaway will be triggered at any random time during this time period.

Rewards: decide the type of reward that you would like to give to your participants during the giveaway (a shot or gift).
Number of winners: this allows you to define how many people you wish to win at each giveaway. There can be up to 4 winners in total. If you choose more than one winner, the number of winners will be randomised for that extra layer of fun.
Choose a logo & background: make your sweepstake stand out and look great by choose a few pre-set backgrounds.
That't is! You are now ready to kick-off your very first online sweepstake. You can either start it right away or save it for later. Either way, you will eventually need to invite people into your sweepstake.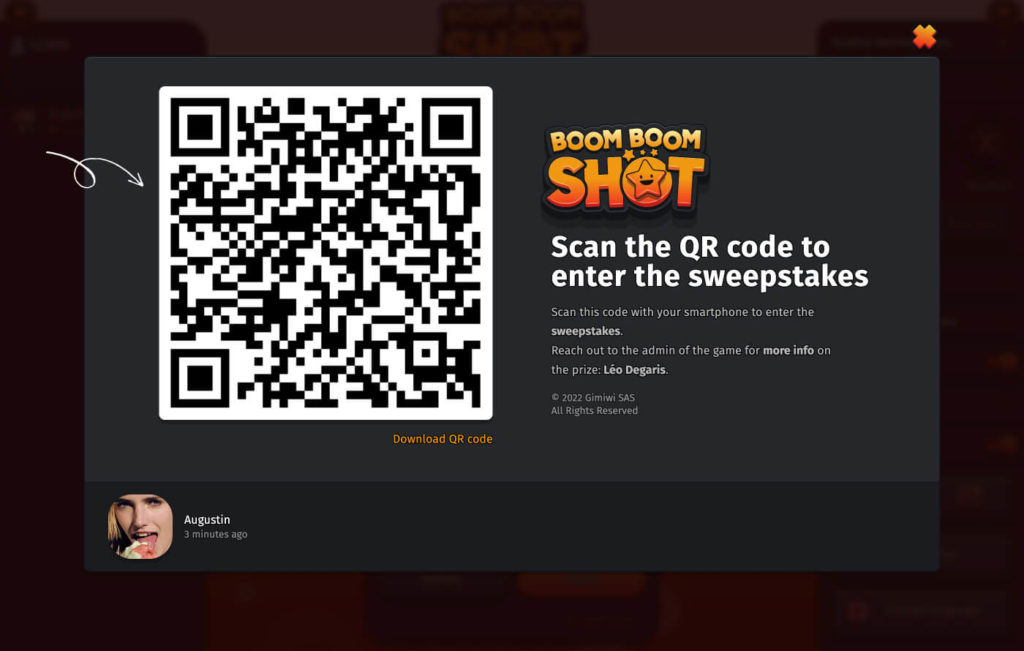 Step 2: Invite your participants
Once the sweepstake has been setup, you can immediately start to invite your participants. This can be done in many different ways:
QR Code – each sweepstake has a unique QR code. This code can be put up on a big screen for all to see, printed and handed out or simply shared as a screenshot. All that the participant needs to do is take out their personal device (phone, tablet, etc.) and use their camera. Once the camera comes into contact with the QR code, a clickable link will appear. The user can follow that link to create a Boom Boom Shot account (in doing so creating a nickname) and will enter into the sweepstake. You will be able to see the participant joining in real-time by looking at the participant list.
Shareable link – if you already have the ability to message your participants (via WhatsApp or email), simply copy the link and send it over to them. Once they click it, they just need to create a free account, enter a nickname and they will join the sweepstake immediately.
Manually – if it's a smaller group of people, its sometimes easier just to add everyone's name manually. This can be done on the participant list. People can add themselves or someone can add the group.
The advantage of the first two approaches is that those who create an account can follow the sweepstake on their own personal device in real-time. That means that will never miss the chance of winning! Or at least, know that they won 🙂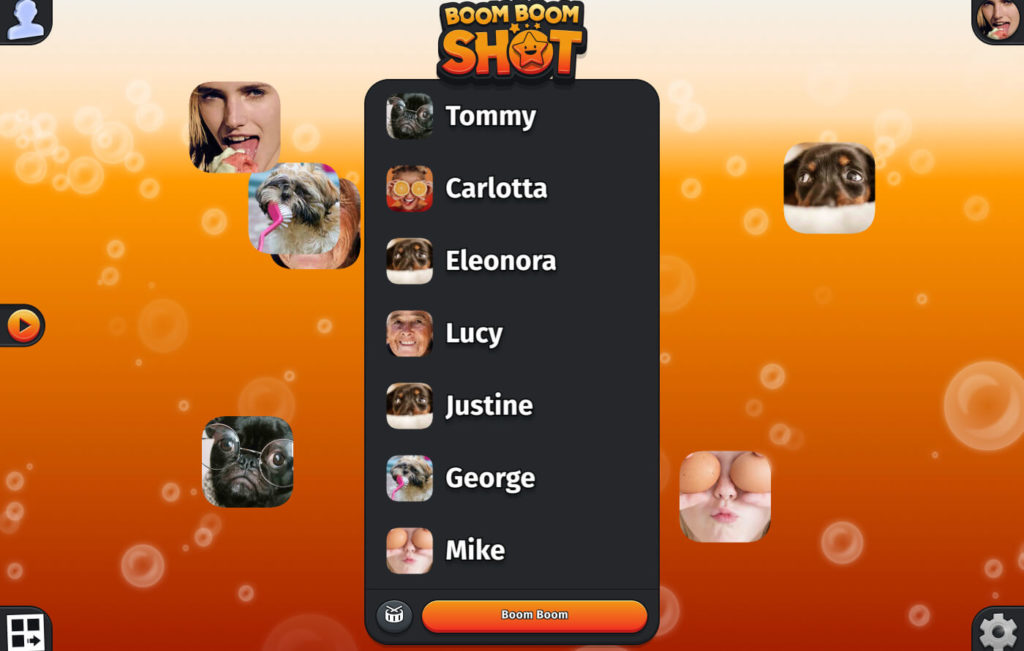 Step 3: Kick-off your online sweepstakes
So now you have all of your participants in the sweepstake, it's time to kick things off – Boom Boom! Once you start a sweepstake it will follow your trigger setting. Participants can continue to join even when the sweepstake is started. This way everyone gets a chance to join in on the fun.
With the premium version of Boom Boom Shot you can take your online sweepstakes to the next level with way more participants and can make the sweepstake look and feel like yours through the custom branding. Be sure to sign up for free if you are interested to try out Boom Boom Shot!